Today's post covers something that's a complete pain to deal with, and luckily few people ever need to navigate. Unfortunately, since it's a relatively rare problem, few people know what to do if they discover birds in the attic. So, how do you get rid of birds in the attic?
To get rid of birds in the loft, you can utilise bird seed and cages to trap them while you remove them from the attic. If you're not confident about doing the job yourself, get in touch with a local pest control firm for advice and using their services.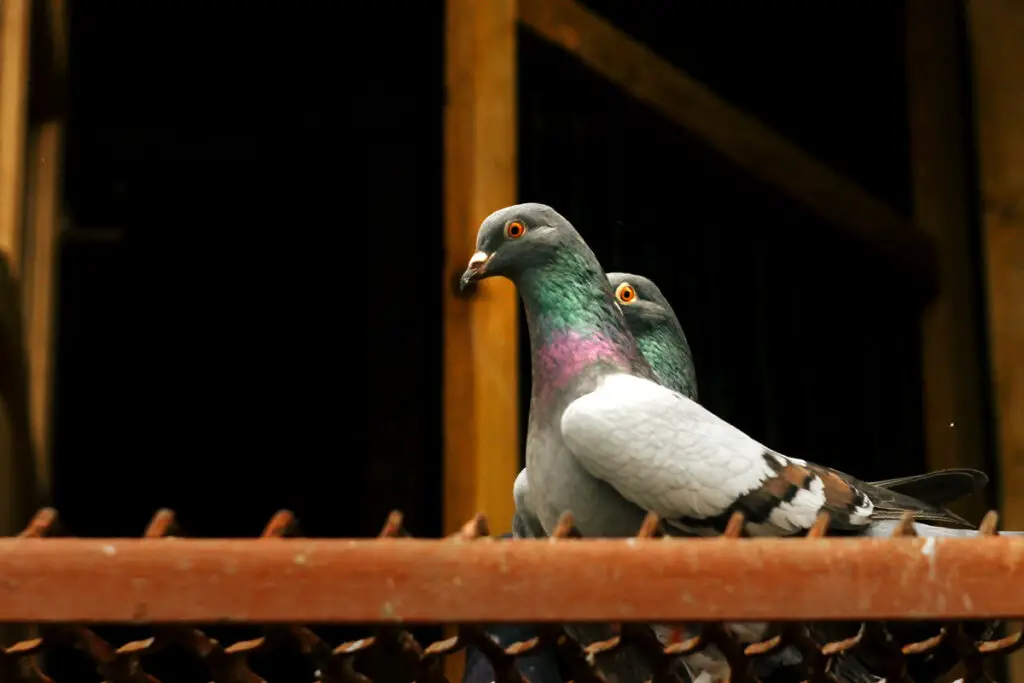 ---
A Note About Nesting Birds
This article refers to birds that are stuck in the attic, not those that have made their way onto your property for nesting purposes. Nesting birds are protected by law so you must not disturb them. In fact, you could be committing a criminal offence if you try to dispose of, or deliberately disturb a bird's nest.
According to the law:
You're breaking the law if you:

– intentionally kill, injure or take wild birds
– intentionally take, damage or destroy a wild bird's nest while it's being used or built
– intentionally take or destroy a wild bird's egg
– possess, control or transport live or dead wild birds, or parts of them, or their eggs
– sell wild birds or put them on display for sale
– use prohibited methods to kill or take wild birds

Wild birds: protection and licences, gov.uk
---
Flying Guests In The Loft
If you've ever had anything living in the attic, you'll be familiar with that sudden sound of scurrying feet in the case of rodents, or in this case the erratic flapping of wings as birds panic about being unable to escape.
Something to remember before attempting to free them is no matter how irritated you are about their presence in your loft space, they're likely to be terrified about where they are trapped too.
A good thing to keep in mind is that a trapped bird's nerves will have a very similar effect to a nervous human. Think about what happens when you're waiting for an interview – you might need to use the toilet a little more frequently than usual or perhaps be a little more snappy than usual.
It's the same for the birds, so avoiding inflaming the situation is wise, and keeping your feathery visitor as calm as possible is the name of the game.
How Do I Know I've Got Birds In The Attic?
The telltale signs of having birds in your loft are:
Bird Poop
If you've got a lot of belongings in the attic and they're covered in dollops of poop splattered on them, it's almost certainly from birds. Only flying animals are able to comprehensively deface your belongings in this way, so it's a telltale sign of their presence.
Flapping Wings
As you might imagine, given that you can hear birds flapping their wings in the great outdoors, if you're unfortunate enough to have one trapped in your home, it's likely to seem a lot louder than normal, even through the ceiling.
Squawks
Birds that become trapped and are unable to escape often call out in the hope of getting the attention of others in their flock. Just like humans, they seek the help of others when they find themselves stuck in a situation they're unable to resolve themselves. While it's unlikely that another bird will be able to do much to help, it's a handy clue for you to know what you're dealing with.
Tapping Beaks And Feet
Not all birds fly around in a panic when they're trapped – some will spend a huge amount of time exploring and trying to find their escape route. That might mean you hear their tiny feet bouncing along, scratching or beaks pecking to investigate and it's a difficult clue to interpret – is it a bird? Is it a rat? An expert might be able to tell the difference, but most householders can't.
Don't be fooled if the sound seems too loud either – people have reported it sounding like someone walking in their attic and it's turned out to be small birds, squirrels or rodents hopping around rather than human footsteps.
Crash Landings
Crashes are more likely to be birds than other animals, especially if there are more than one of them. Birds can repeatedly fly around and keep stunning themselves on impact, crash landing before recovering, and doing the same all over again. A rat or mouse might be able to cause something to topple, however it's unlikely to be repeated over and over.
Bacteria, Handling & Safety
When you're working in an area where birds have been trapped, they are likely to have left a lot of droppings around the place that could contain harmful bacteria.
For this reason, wear good quality disposable gloves, and wash your hands well after you're finished. Even if your hands look clean, bacteria are too small to be visible to the human eye, so wash then well with soap and warm water. It's advisable to repeat the process at least once too, just in case you've missed anything on the first attempt.
Dispose of any used gloves into the general waste bin, in another bag that's tied closed.
Animal Cage Traps
The best way to deal with unwanted birds in the loft space is to use cages that automatically close when the bird enters, humanely trapping them until you can transport them down through the house and outside to the fresh air.
It's important to choose a trap in a cage size that's easy to remove through the space available. If you've got a small loft hatch, make sure that the cage can easily be manoeuvred through. It'll be a lot more tricky once there's a lively bird inside!
Be aware that most animal cage traps will be fine for the job if they're big enough, even though they're usually marketed towards other animals like rats, mice and squirrels. Place bird seed into the cage, as that will lure them inside, and set the trap door to close behind them on entry.
Here's some choices from Amazon:
Indoor Animal Cage Traps
As an Amazon Associate I earn from qualifying purchases.
| Image | Description |
| --- | --- |
| | YORKING 2pcs Humane Rat Trap 23.5 * 11.5cm Live Mouse Cage Trap Humane Living Pest Control Indoor and Outdoor Animal Live Cage Mousetrap |
| | Quality Rat Trap, Humane Live Animal Mouse Cage Traps, Catch and Release Mice, Rats,Chipmunk, Pests, Rodents and Similar Sized Pests for Indoor and Outdoor, 10.6 X 5.63 X 4.33 Inches, One-Door |
| | skycabin Animal Live Cage Trap,Humane Mouse Trap,Mice Catcher for Rat,Rodent,Squirrel,Hamster and Small Rodent for Indoor or Outdoor Size 24 X 11.5 X 11.5 cm |
| | Marko Pest Control Rat Catcher Cage Trap Spring Humane Large Live Animal Rodent Indoor Outdoor (2) |
| | skycabin 1 Door Animal Humane Live Cage Trap Rat Mouse Mice Rat Squirrels Chipmunk Catcher for Indoor and Outdoor 28 X 15 X 11.5 cm |
While no-one wants to imprison an innocent animal, you're ultimately helping them to achieve their goal with is really the same as yours. To you, it's removing the bird from your home, to them it's gaining freedom.
When you place cages in your attic, be sure to place them in a tray of some kind. Once the bird is in there, it is likely to deposit all sorts of mess. Be sure to check the traps regularly – you don't want them to be panicking and stuck in there any longer than necessary. Once you've got them securely caged, you can transport them down through the house and outside before returning their freedom.
Removing A Dead Bird From The Attic
Sometimes there can be more than one avian visitor in the loft, and it could be that one or more have passed away from shock, hunger or injuries sustained from colliding with structures in the space.
The same applies with birds as their droppings – especially deceased ones. Handle them with care, delicately placing them into a waterproof plastic bag and tying the top carefully. Again, they can go into a general waste bin with your normal household waste once securely bagged.
Follow the same procedure with washing your hands, as it's possible to become ill quickly if you don't wash your hands properly, especially if you rub your eyes or get anything in your mouth.
Preventing Birds Returning To The Attic
A mistake that's common after homeowners remove birds from their loft space is forgetting that they got in somehow in the first place. Once removed, it's important to find out how that happened.
Usually if a bird has become stuck, it means they've got through a hole from outside into the attic, and it's often harder to get out the other way. That means that it might be obscured from the inside, otherwise the birds should have found their way out again.
If you can't see daylight from the inside, it doesn't necessarily mean there's no hole to fix. It just means you can't see it. Likely places to look closer include below the insulation line in the floor space of the attic, and behind wooden structures supporting the roof. While gaps in roof tiles are possible, you're more likely to see daylight through those.
You might be lucky if it's a first occurrence of getting unwanted visitors in the loft, but if you choose to take no action and hope for the best be sure to periodically check for the signs we covered earlier – mainly unexpected noises and dollops deposited that weren't there before.