South Yorkshire is home to four main councils each responsible for hundreds of thousands of residents. One of the services they provide is refuse collection. Here at rubbishsite.co.uk, we provide a huge amount of information about the residential bin collections across South Yorkshire and the wider UK.
Bin collections across South Yorkshire are the responsibility of the four councils – Sheffield, Rotherham, Doncaster and Barnsley. Collectively, they cover almost 1.4 million residents across a total of nearly 600,000 residential properties, each with up to four wheelie bins to empty.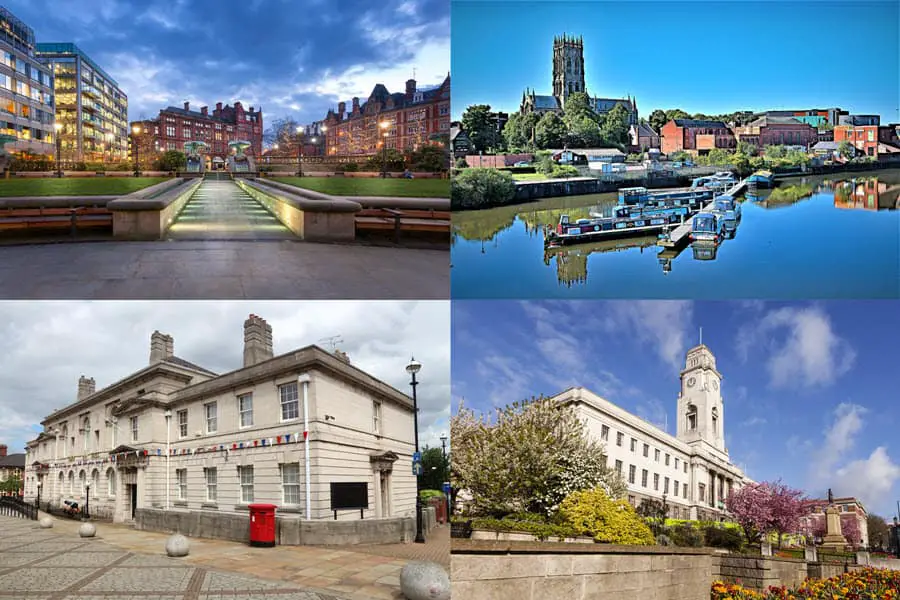 Here's a breakdown of the approximate population covered by each of the four city/district/metropolitan borough councils.
| Council | Population | Households |
| --- | --- | --- |
| Sheffield | 575,400 | 229,928 |
| Rotherham | 264,671 | 108,293 |
| Doncaster | 311,890 | 134,200 |
| Barnsley | 243,341 | 110,590 |
Sheffield
Sheffield services are run by Sheffield City Council. Their waste management operations are undertaken by Veolia on the council's behalf.
Sheffield operate four distinct waste collections for residents, comprising of:
Read all about the Sheffield waste management, including bin collections, recycling centres and other services on our page about Sheffield here.
Rotherham
Rotherham's bin collections are operated by Rotherham Metropolitan Borough Council's in house teams.
General Waste (Pink Lid)
Paper & Card (Green)
Plastic, Glass & Metal (Black)
Garden Waste* (Brown)
Find out more about waste collection and disposal services in our Rotherham section here.
Doncaster
Doncaster households benefit from the following collections provided direct by the council:
General Waste (Black)
Paper, Card, Tin Cans, Plastic Bottles (Blue)
Glass (Green Box)
Garden Waste (Green Bin)
We've got more information specific to Doncaster here.
Barnsley
Barnsley operate their own collections, spread across four coloured bins:
General Waste (Grey)
Paper & Card (Blue)
Mixed Recycling (Brown)
Garden Waste (Green)
Our page covering Barnsley waste services and information is here.
*optional, additional fee service
Other Services
Bin emptying is not the only service that councils offer, but it is the most commonly used for most residents. Let's have a look at some of the other services relating to rubbish that you might need to use from time to time.
Bulky Item Collection
Large items can be very difficult to dispose of on your own, so councils offer collection services to remove and dispose of them responsibly. The local authorities have considerable resources to manage this, so the fees are typically low compared to private companies if you've only got one or two items to pick up.
If you've got more than that to dispose of, skip hire may be a better and more affordable solution.
Hazardous Waste
While the obvious example of a harmful material to dispose of is asbestos, there are a lot of types of rubbish that can fall into this category. Chemicals, gas canisters, batteries and oils all fall into the broad category of hazardous waste, so check with your local council's waste management team if you're unsure of how to dispose of these appropriately.
In general, if something is likely to cause pollution or injury if it is damaged, crushed or otherwise mishandled, don't put it into your wheelie bins.
Household Waste Recycling Centres (HWRC)
While most of us refer to them as the tip or the dump, Household Waste Recycling Centres (or HWRCs) are there for residents to take all types of rubbish too when it won't fit into their wheelie bins for collection.
Not fitting can either mean that the bin is already too full or the item is too large to physically fit into the bin. Remember that bin lids must be fully closed for collection.
There are also types of waste that aren't allowed to be collected for kerbside collections. Typical examples might include rubble, roof tiles and large tree branches or trunks. Many HWRCs will accept these types of waste, so long as they're disposed of in the correct skips on site. For that reason, it's a good idea to organise the waste into your car when you visit to make it easy to visit the skips in order if you've got different types.
For opening hours, check the websites for Sheffield, Rotherham, Doncaster or Barnsley.