Most people take their car to their nearest tyre workshop or use a mobile fitter when their tyre tread runs down or they get a puncture. That means the company dispose of the old tyre (or tyres) on your behalf. What if you've got an old tyre lying around though, how do you dispose of them and can you take them to the tip?
Most council tips do not accept tyres. Those that do will have strict limits on how many you can leave because they are difficult to deal with and rarely something that residents need to dispose of. Council sites do not accept trade waste.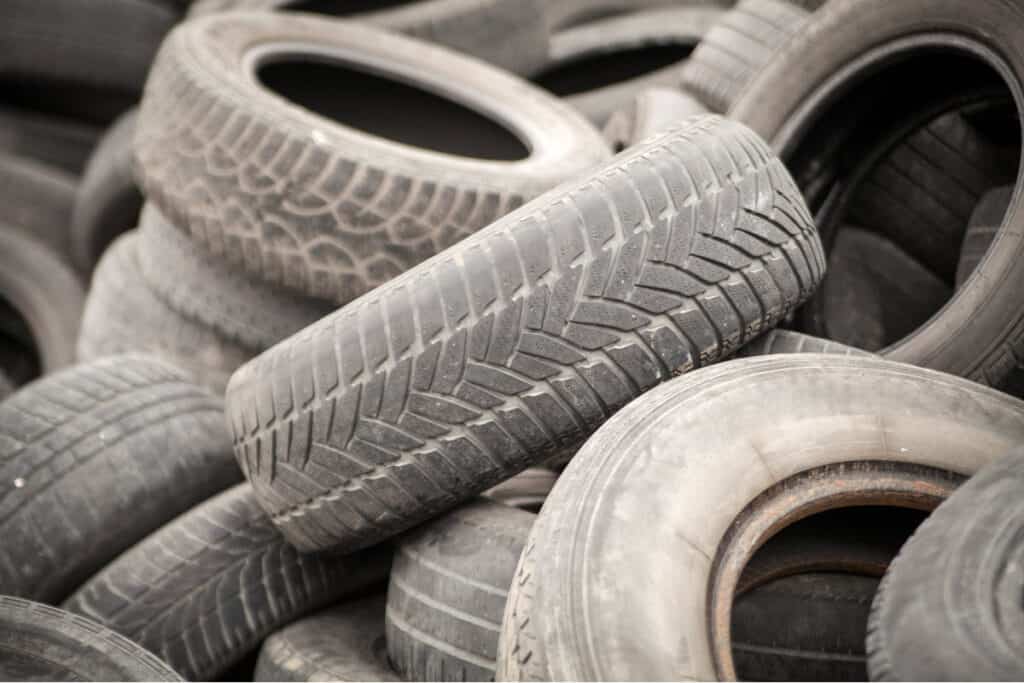 Can I Take Tyres To My Local Tip?
As we said above, while many local tips do not accept vehicle tyres, there are some local authorities that do. Check your local councils website for details where you live – you'll usually find what you need in a section called Waste Management, Household Waste Recycling Centres (HWRCs) or in the Council Services section.
Can Old Tyres Be Recycled?
Rubber is very difficult to recycle, but can be reused. Popular examples for the re-use of tyre rubber include remoulding into new tyres or repairing of existing tyres or creating specialist materials such as the soft flooring of children's outdoor playgrounds.
Where Can I Get Rid Of Old Tyres For Free?
If you're not in an area where local councils offer recycling services for tyres at their tips, it's likely that your best option for offloading them is finding someone who wants to re-use them.
If you have farms nearby you may find that farmers can take them off your hands to use to weigh down coverings for silage in fields. While this is still a common sight across the countryside, increasingly farmers are turning to lorry tyre sidewalls instead.
It may also be that companies are in your area shredding down tyres to use for resurfacing – much like the sponge-like playground surfaces we mentioned earlier.
While recycling isn't as easy with tyres as other products,when shredded they are versatile for use in several manufacturing processes. While their use is very specific and limited, it's a lot better than them heading off to landfill which was common before legislation banned them in 2006 with clause 4.24 of the EU Landfill Directive.
How Much Does It Cost To Dispose Of Tyres In The UK?
A good compromise at local council HWRC locations is offering tyre disposal at a fee per tyre. This appears to be the direction of movement so that councils can reduce the financial burden of tyre disposal while at the same time taking advantage of the economies of scale in processing the sheer number of tyres that require disposal every day.
Based on our survey of councils, the fees vary but are typically in the £2.50 to £5.00 range per tyre, and the majority of councils limit the number of tyres you can dispose of on a per visit or per month basis.
Here's a sample of the answers we got back from local authorities in counties across the country:
| Local Authority | Cost Per Tyre | Limit |
| --- | --- | --- |
| Adur and Worthing Borough Council | £5.00 | Household use only |
| Adur District Council | £5.00 | Household use only |
| Allerdale Borough Council | Free | Up to 4 tyres per visit |
| Amber Valley Borough Council | Free | Up to 4 tyres per visit |
| Arun District Council | £5.00 | Household use only |
| Ashfield District Council | Not Accepted | Not Accepted |
| Ashford Borough Council | £2.50 | Household use only |
| Aylesbury Vale District Council | £4.90 | Up to 5 per year |
| Babergh District Council | Not Accepted | Not Accepted |
| Barnsley Metropolitan Borough Council | Not Accepted | Not Accepted |
| Barrow-in-Furness Borough Council | Free | Up to 4 tyres per visit |
Can You Sell Old Tyres?
There is no law against selling old or used tyres in itself. However, there are regulations (namely The Motor Vehicle Tyres [Safety] Regulations 1994) dictating what standard they must meet in order to use them on a vehicle.
Non new tyres are described by the term 'part-worn'. A part worn tyre is one that has previously been used on another vehicle.
In order to be able to legally sell part-worn tyres, they must meet a set of guidelines, design to ensure that they're road worthy.
While we could go into a huge amount of detail about those rules, the gist of them is that when used they must not cause a vehicle to be unroadworthy.
The key aspects are:
There should be no damage
There should be 2mm of tread at the very least remaining across the entire width of the tyre
It should pass an inflation test
In addition, part worn tyres are also required to be marked as such. If you'd like to know more about the technical detail, you can learn more about part worn tyre regulations here.
To cut a long story short, the general principle is that part worn tyres are a false economy, as the frequency with which they need replacing means you end up spending more over the long term even though an individual tyre is cheaper than a brand new one.
What's more, many companies offering part worn tyres fail to carry out the required checks, so you may be risking your safety, along with that of family and friends that may be travelling with you. According to TyreSafe, 94% of part worn tyres are illegal as they fail these checks.
What Can You Do With Old Car Tyres?
The most common thing people do with old tyres is have them replaced at a reputable garage. These locations will have the ability to dispose of them correctly as part of a trade waste agreement.
The cost of correctly disposing of tyres is not excessive, and means that you'll be sure that they're being recycled responsibly. What's more, the cost is almost always included in your quote, and garages typically will not reduce their fee for you taking the old tyre away as it leads to fly tipping.
If you've got an old tyre that you're trying to get rid of, it may be that you can take it to a garage that supplies new tyres and they'll dispose of it for you. It's likely that they will charge a small fee, but again, you'll know it's being correctly dealt with.
Finally, it's always good reminder that re-using materials is even better than recycling them. Rural Sprout have a great write up on how to 'upcycle' tyres in the garden if you're feeling creative!