Green waste collection services vary dramatically across the UK, with some councils offering free services, the majority offering paid collections and a few authorities not offering collections at all.
Council garden waste collections are most commonly annual subscription based services, offering weekly, fortnightly or monthly collections. While they are not included in most council's free services, they're usually cheaper overall than taking your grass and other green waste to the tip.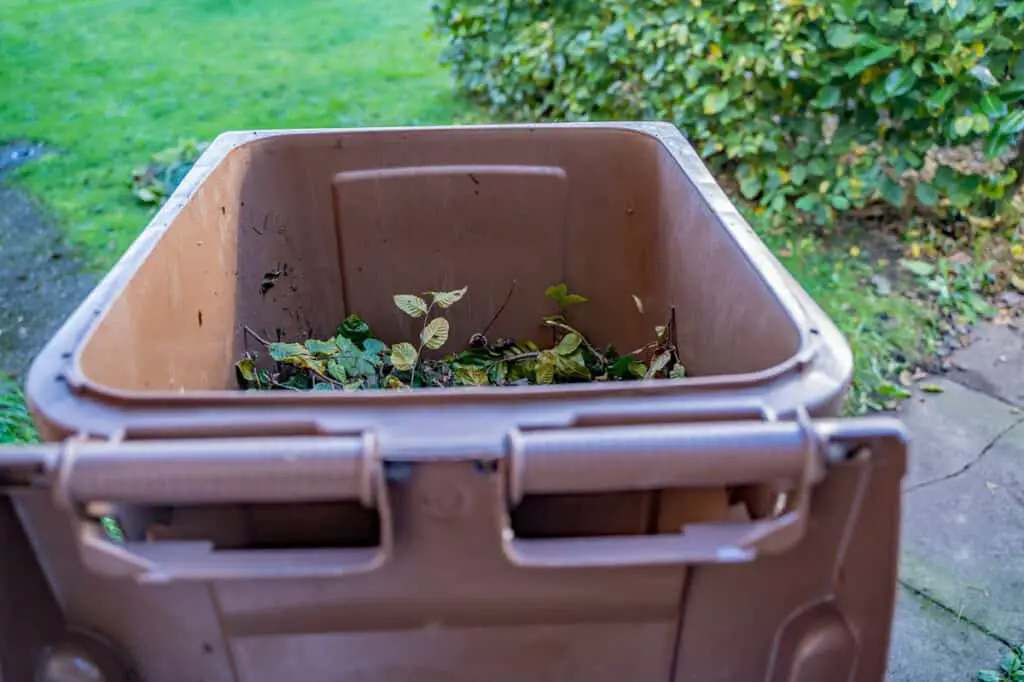 What Can Go In My Green Waste Bin?
In general, garden waste collection services are designed to take away garden waste you would expect to be generated in a normal residential garden.
You can place the following green waste types into a garden waste wheelie bin:
Grass cuttings
Hedge clippings
Leaves
Dead flowers
Small branches
House plants
Shrubs
Weeds
Moss*
*Please note that moss does vary between councils. Check the local authority's website to see the rules that apply in your area. Unfortunately not all council areas have extensive detail on their websites, so if in doubt, you can compost moss if you have a bin, or deposit it with garden waste at the local tip.
What Cannot Go Into My Green Waste Bin?
There are some types of waste that you might expect to be able to put into the garden waste collection that are actually not allowed.
Never put Japanese Knotweed into your garden waste bin (other weeds are usually fine). In addition, large branches are not usually accepted, defined as those over 10cm wide. These can be deposited at the tip instead.
How To Dispose Of Japanese Knotweed
As Knotweed cannot go in the bin, and also typically isn't accepted at the tip, what should you do to get rid of it?
Japanese Knotweed is banned from common waste disposal methods like garden waste collections and local tips because it spreads quickly once it takes hold and is hard to eradicate. Seek the services of a competent company to help kill it with chemicals.
If you have Japanese Knotweed on your property, you have a legal responsibility to prevent it from spreading to adjacent land.
How Much Do Council Garden Waste Collections Cost?
Garden waste is an additional service in most areas across the UK and prices vary between councils.
Garden waste collections are available in most council areas for a fee of approximately £60 per year. You may have to pay an additional fee to buy the bin when you first subscribe, but the fee is not payable in future years unless you require a replacement wheelie bin.
The exact fee will be set by your local council, and will typically increase each year approximately in line with inflation. However, as a public service, costs may rise or fall in line with the actual cost of service provision.
The costs to the council will depend on staffing, the cost of fuel to operate collection vehicles and the cost of processing the waste. There may be reductions in fees as services become more popular due to the economies of scale involved. For example, more homes using the service in a neighbourhood mean that the fuel costs are spread over more households and can be lower. This explains why city collections can be cheaper than more rural locations.
Does Garden Waste Go In My Green Bin?
One of the greatest mysteries of refuse collection in the UK is why councils haven't got their heads together to get a common set of rules about bin colours and services provided. Council boundaries mean people in adjacent roads may but the same waste into completely different coloured bins.
Garden waste and green waste have the same meaning, but not all councils use green wheelie bins for green waste collections. The colour of bins for garden waste is not consistent across the UK, so check your garden waste recycling service if unsure.
It would make a lot of sense for all green wheelie bins to be designated for green waste collections, however some councils use green for general waste and seem reluctant to make changes.
How Often Are Garden Waste Bin Collections?
Just as bin colours and service fees vary between areas, the frequency of collections depends on where you live too. Most areas offer at least fortnightly collections through the summer months.
Garden waste collections operate on a regular schedule, usually every two weeks through the summer months. In some areas the collections revert to monthly cycles through the colder half of the year, and in others they stop altogether until the spring.
What Day Are My Garden Bins Collected?
When you subscribe to a green waste collection, you will receive an allocated collection day. This may not be assigned immediately, as the council will need to assess demand before planning routes.
Most councils decide which day garden waste is collected based on demand and plan collection routes accordingly. You will be notified of your collection day before the collections commence by post or email (or both), and can often look up your bin emptying schedule via their website.
The website for your local council might allow you to enter your postcode and house number to look up all collection days that are assigned to your house, including general waste, recycling and green waste if you've ordered it.
When Is The Last Garden Waste Collection?
The last garden waste collections tend to be in the Autumn, but vary a lot depending where you are in the country.
The collection schedule for green waste usually repeats regularly through the summer until late October or early November. After the last garden waste collection most councils revert to a monthly collection or stop altogether until the spring when they resume.
Again, checking the council website is the best way to find out when your collections slow down or stop for the winter.
Why Are There Less Collections In The Winter?
The demand for green waste collections is far lower through the colder months when people do less gardening and lawns stop growing as quickly.
In the winter, councils either reduce how regularly they collect green waste or stop altogether because residents are not mowing their lawns or gardening as much in cold weather. Frequent collections resume as the weather improves and demand for garden waste collections return.
How Do I Sign Up For Green Waste Collections?
Most people sign up to get their garden waste taken away early in the year, ready for the warm weather. That allows time for a bin to be delivered if they have not already got one.
You need to sign up for the garden waste council collections if you don't already have the service. In areas where a fee is payable, you normally pay for the year's collections in one lump sum before the collections begin. Councils usually send invitations to residents to resubscribe by post each year.
Most councils now offer a simple way to subscribe for their service online. You can provide your address to add to the collection rounds and make your payment through their website, and then arrange for a bin to be delivered if you need one. You'll often be notified a few weeks later of your collection day before the first round begins.
You can often join part way through the year as well, so if you're late to subscribe, don't worry. Give the council a call if it's not obvious how to do this on their website. It's typically cheapest to subscribe for a full year, so watch out for the invitation to join next year to get maximum value.