Skip hire is a great option for home improvement projects, especially those creating a lot of waste. Rubbish can create a lot of dust, making a skip preferable to making a mess of your car to transport it to the tip.
Skips on roads are usually limited to around two weeks on the initial permit. It is often possible to extend a permit for a further two weeks, however is not guaranteed. Skips on private land can often be kept for longer, subject to the policies of your chosen skip hire company.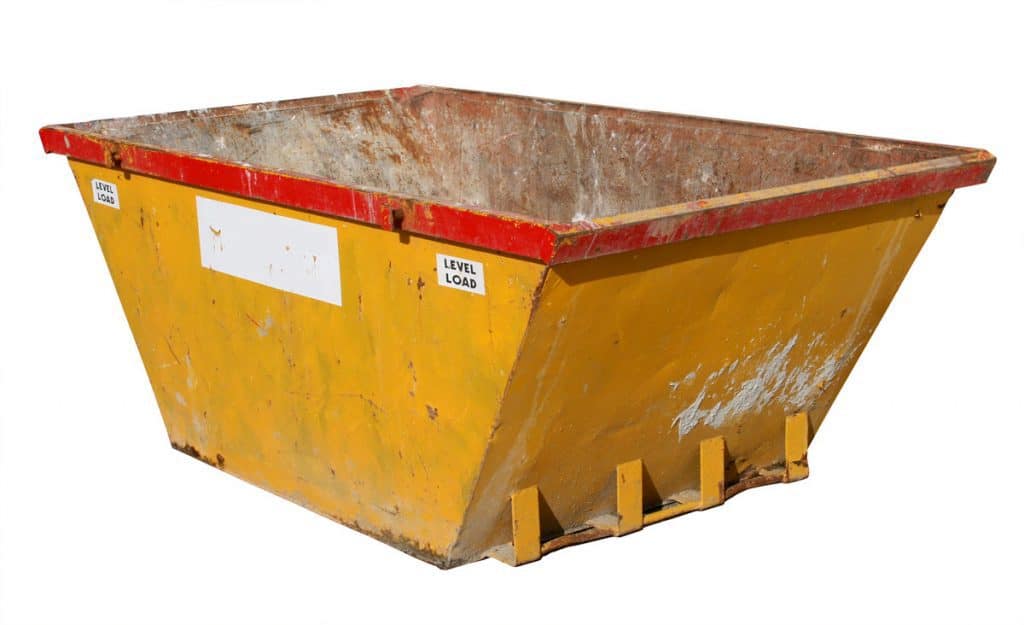 Most skip hire companies offer a range of skips, allowing your to choose an appropriate size for your needs. For longer term projects, you're more likely to have the need for a larger skip, so might be expecting to need it for several weeks, or even months.
If you're placing the skip on private land, that's unlikely to be a problem, but make sure that you make your requirements known to the company you're hiring from when you order.
Skip Hire Permit Time Limits
On the other hand, skips on roads require permits from the local authority. The permit is almost always arranged by the skip hire company on your behalf, so some people are not aware of its existence. While you should have the process explained to you, it's entirely possible that some companies are better than others at explain why a permit is required and the rules imposed.
Generally, councils approve skips to be placed on public highways for around two weeks. It may be that specific restrictions are imposed on your skip if it poses a particular hazard in the location you need it.
For example, you may not be able to have the skip immediately outside your home if it causes an unacceptable risk to drivers. In other cases, you may need additional lighting to make it clear to passing traffic. In addition, in some very busy locations, councils may decline a permit application due to the disruption it would cause, or severely limit how long it can stay in place.
How Long Can A Skip Stay On My Driveway?
When ordering a skip for your drive, there are less restrictions as it's not in the path of traffic (other than you parking your own car of course!).
You should consider people around you though. For example, neighbours might consider it an eyesore if it's in place for weeks on end, so having the courtesy to let your neighbours know what's happening ahead of time is a good idea and can help prevent bad feeling.
While the road restrictions won't apply to your private drive, and you won't need the permit, you should find out what restrictions the skip hire firm impose.
Typically, skip hire can be relatively flexible, but they won't want you to have their skip for month on end because it means they can't rent it out to someone else. For longer term projects, you can probably agree on a compromise like an additional per month fee, or renting a smaller skip that's emptied more often.
The key to getting a great deal that suits both parties is always communication – skip hire is a really convenient solution for many forms of waste disposal that would otherwise be a pain to get to the tip.
What If I Need The Skip For Longer?
Delays happen, and your skip hire supplier knows that. They'll have process to accommodate extending skip rental periods where it's possible, and the additional fees may not be as much as you anticipate.
Much of the company's cost is delivering and collecting the waste and going on to process it for disposal themselves. An extra few days may not add much additional cost at all.
As we have already said, keep in touch with the supplier and let them know as soon as you think you might need to extend the service – that gives you the best chance of being successful for a reasonable price. Last minute changes are more likely to incur higher costs.
Certainly, if the skip is on the road, or public highway as the council will call it, extending a permit is likely to incur an additional cost above and beyond what you'd pay if it was on private land. Most councils charge a fee in the region of £20 for each permit issued, so the same fee will apply again for an extension, usually charged through the skip hire firm.
Getting The Skip Collected At The End Of Your Project
Remember that not all companies collect their skips immediately when you no longer need them. Sometimes you can arrange the collection time on order of delivery of your skip, but more commonly you'll need to call them to arrange collection.
In particular, you need to keep this in mind if you have your skip located on the road, as you'll need to allow time for collection before your permit expires. Councils can offer significant penalties if permits expire before a skip is moved, so unless there's a good reason, the council may not be flexible.
The penalty will normally be sent to the skip hire company, who will in turn pass it on to you. If you've arranged a collection and it doesn't happen, you've got a good argument to refuse payment, however if you fail to arrange for it to be collected you could get a hefty bill.
Be sure to ask how much notice is required for the skip to be collected after use, and if deadlines are tight you may need to request the pick up before you're completely finished on your job. Alternatively, consider asking if extending the permit is an option if you're not confident of being done in time.
If the skip is on private land, you may find collection times are more flexible, so again, keep in touch with the company hiring out the skips to get the best chance of an extension for minimal cost.