Broken windows are never good, but beside the cost of replacing the window frame, glass, or both, you might also need to get rid of the sharp glass fragments left behind from damaged panes. Can flat glass window panes go into your recycle bins?
Flat glass like window panes must not be placed into recycling bins for kerbside collection. They use chemicals in manufacturing that differ from bottles and jars. Flat glass should be taken to your local tip for recycling.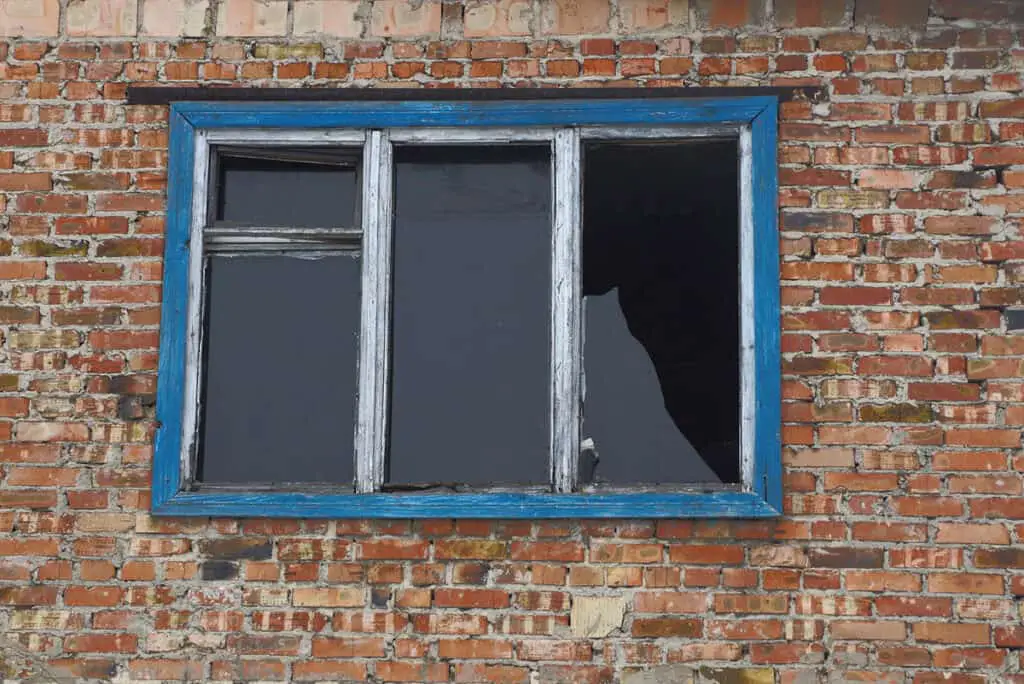 Window panes are typically much larger than the glass that goes into your recycling at home. While food jars and bottles are fine (in fact they're exactly what should go into your glass recycling for kerbside collection), other types of glass need a different recycling service, usually accessible via the local Household Waste Recycling Centre (also known as the HWRC, council tip or dump).
Can Glass From Windows Be Recycled?
Just because you can't put window panes into your recycling bins at home doesn't mean they can't be recycled. We should all be recycling as much as possible to reduce the use of landfill and incineration.
Window glass recycling is possible, but differs from the process used for bottles and jars. The service for window recycling is available at the local tip, and is designed to overcome the chemicals used in lamination and toughening of glass for windows.
While the window glass is different to glass bottles and jars for recycling, it's interesting to note that the melted down window panes can be used to make bottles and jars to give the glass a new lease of life.
Can Window Panes Go Into Bottle Banks?
Some people have mistakenly thought that because windows use clear glass, they can break up the window panes into smaller pieces and post them into the 'clear bottles' chute in bottle banks.
Window glass cannot go into bottle banks because bottles and window panes are manufactured differently. Take old window panes to your local council run Household Waste Recycling Centre to be recycled.
In addition, you should not break down glass panels unless absolutely necessary, as panes of glass can shatter when damaged. Broken glass can easily spread across a considerable area, and is hazardous to pick up with very sharp edges.
Try to transport window panes in one piece where possible, and you might want to use masking tape or gaffer tape to cover sharp edges of damaged glass. If there are visible lines where the glass is breaking through the pane, consider sellotape along the line to help keep it together and reduce the likelihood of the glass breaking further.
What Can I Do With Old Window Panes?
Firstly, you should always put safety first when handling glass. Damaged panes can be sharp so must be handled with caution. Protective gloves are a must, especially when removing panes from their frames as they can be tricky to free and not move as expected.
Re-using materials is almost always preferable to recycling them. In this case though, give thought to how safe they will be, as sharp edges can be difficult to make safe on old panes of glass. If you're confident in your skills in DIY or crafting, you may have ideas of what you can do with the glass.
If you're looking for a little more inspiration and like to get creative, the Addicted2Decorating blog has a really diverse set of over 20 ideas for re-using window glass and frames.
While I'm not particularly inspired by crafts, I can certainly see some of my more arty friends getting involved with some of these home improvement style creations.
How Is Window Glass Recycled?
Unlike the widespread recycling facilities across the UK for melting down the bottles and jars you'll typically find in your kitchen, window panes are a more specialist process.
As with many types of recycling, the techniques for common waste like paper, card and some plastics have moved on simply because there is greater demand to reduce landfill use.
While there are a lot of windows in homes across the UK, people don't tend to replace them very often, so the number of glass recycling facilities accepting window glass is notably smaller than plants regularly dealing with jars and bottles.
For that reason, councils ask residents to take panes of glass (intact or broken) to their local tip where they are collected and periodically taken to a specialist processing unit that's set up to deal with recycling them. The process is similar to melting down bottles and jars, but has to take account of differences like toughened glass and chemicals used in the manufacturing process of windows panes.
What Happens To Old Windows When I Buy New Ones?
Of course, not all windows are removed because they're broken. Sometimes we just replace them for other reasons too.
It might be that you just want to freshen up your home's appearance and the windows have seen better days. On the other hand, you might have old, draughty windows that have been in place for decades. Modern double or triple glazing can transform a home and make it much more energy efficient, helping combat those soaring energy bills.
Buying new windows with installation from reputable companies will usually include removing and responsibly disposing of your old windows too. That should mean recycling materials wherever possible including glass panes.
If you've got a company coming to replace your windows, they should remove your old windows (and frames too where appropriate) and take them away as part of the job. It's worth checking with the company ahead of installation day, or look on their website as they'll often sell disposal as part of their service.