Plastic has been a hot topic for many years, especially in relation to ocean pollution. Thanks to David Attenborough's Blue Planet documentaries, the issue is now familiar to billions of people around the globe.
Recycling plastic bags is much harder for home-owners than plastic bottles, as most councils do not take them during kerbside collections. While the local authority websites often tell you to place carrier bags in general waste bins, it is possible to recycle them rather than send them to landfill.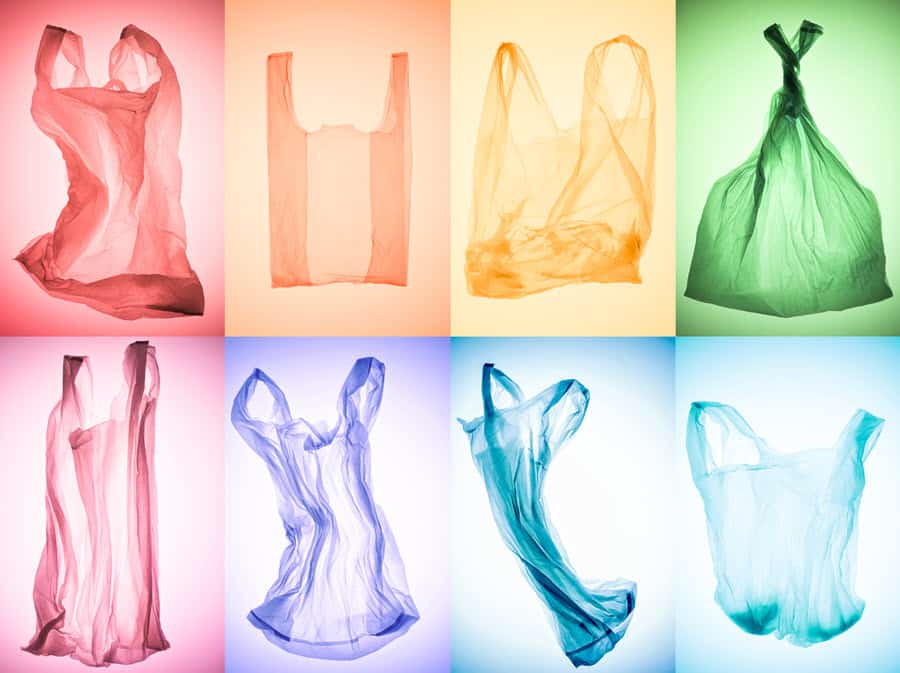 What To Do With Old Plastic Bags?
First and foremost, an old plastic bag is not necessarily the same as a bag that's unusable.
Just because we refer to the thin, old-style supermarket carrier bags as single use, we should re-use them where possible.
Recent studies have suggested that the single use behaviour has started to creep into the use of reusable bags too, often referred to as bags for life.
Virtually every home now has a stash of reusable bags in the cupboard. While we're all guilty from time to time of accidentally leaving them at home when we go shopping, some of us are now using them like single use bags. That means a huge and growing number of them, meaning more and more unnecessary plastic being generated.
Eventually every bag that's created ends up being disposed of, so we need to be reducing their creation, and at the same time ensuring that what's left is being recycled as much as possible.
Why Should Plastic Bags Be Recycled?
While most of us know we should be reducing our plastic waste and know that if we use plastic bags then re-using them is better than throwing them away, few are aware of the reasons why.
The general assumption is that they don't degrade in landfill, and while that is a great working assumption (it drives behaviour in the right direction), it's not entirely true. Like almost everything else they do break down eventually, but it will take centuries, and perhaps over a thousand years.
The sheer number of plastic bags that have been created over the decades is staggering, here are some broadly accepted estimates:
Around five trillion plastic bags are used every year globally, according to research aggregator TheWorldCounts. It's hard to comprehend just how big that number is. To help, there are 525,600 minutes in a year, which means approximately ten million bags every minute are used.
The majority of single use carrier bags from UK supermarkets (before being phased out) were never used again after the journey home from the supermarket. If you consider that a very high percentage of the bags we all hoard at home are from supermarkets, it means that the majority of those five trillion bags really were single use.
While the carrier bag charge in the UK resulted in a 90% fall in new plastic bag use in the four home nations, that's still well over a billion new bags being produced annually.
'Bags For Life' is a very loose definition, unless you mean the life of the bag rather than the owner. More plastic goes into these reusable bags, so they need to be used many more times than single use alternatives to show an environmental improvement.
While different studies have produced wildly differing results, at best a bag for life should be reused 11 times (12 including the initial use) to be 'better' than a disposable single use bag. More conservative figures suggest that number rises to 37 times.
The final use for any bag should ideally be as a bin liner if it is destined for landfill and cannot be recycled for any reason.
How Do You Recycle Plastic Packaging Bags?
Always check what can be recycled in your plastics recycle bin for a definitive answer, as hopefully over time the range of collections at kerbside will improve nationwide (and indeed globally).
We maintain a section on local areas including council collections in some regions, just check out the counties section on the menu at the top of the page. Alternatively, councils provide details on their websites detailing their bin collections. Unfortunately council sites aren't always the best, which is why we're creating this site to better serve UK residents!
It's highly likely that plastic bags cannot go into your plastics recycling, so that leaves a couple of easy ways to dispose of them responsibly.
Supermarket Bag Recycling
Many of the major supermarkets are now working hard at improving their environmental impact. There's a lot of debate about whether they're doing enough, but that's a different argument, and one that we're not covering!
Supermarkets know that environmental issues are very important to their customers and becoming more sensitive all the time, so it's not just about being the right thing to do, it's also about protecting their brands.
Part of the push is now that supermarkets are offering plastic bag recycling services in store (or in car park depending on the company).
Recycle Sites
By recycling sites, we're talking about anywhere you can find recycling facilities, not just council run Household Waste Recycling Centres (HWRCs – or more commonly the 'tip'!).
Common locations for recycle sites include supermarket parking areas, large retail parks, car parks and many other areas.
You'll find that many of these sites now offer carrier bag collection, or as it's more commonly referred to in the trade 'soft plastics'. Of course, to most people, soft plastics isn't as meaningful as 'plastic bags'.
The great news is that soft plastics is a wider, more encompassing recycling service than just plastic carrier bags – as a rule of thumb, it also includes:
Single use carrier bags
Bags for life (such as the supermarket re-usable ones)
Bread bags
Breakfast cereal packaging (the inner bag, not the cardboard!)
Fresh fruit and veg bags
Frozen food packaging (frozen vegetable bags, frozen chip bags, ice cube bags etc)
Clothing bags
However, it's not suitable for:
Carrier bags that are compostable or otherwise recyclable (e.g. paper bags)
Yoghurt pots
Cling film
Food trays
Crisp packets
Anything contaminated by food
Final Thoughts About Plastic Bag Disposal
If we continue to use plastic bags, and it's naive to think that we won't, then the problem becomes minimising the waste.
Reducing the number of carrier bags we take from supermarkets is a huge objective, both for us as individuals and collectively. The old saying that behaviour breeds behaviour applies, as other people seeing you bring your used bags on grocery shop after grocery shop sends a subtle message to them that they should be doing the same.
If you've got hundreds of bags stashed in the kitchen cupboards or under the stairs, why not offer them to friends and neighbours rather than binning them? If they're still usable, re-use trumps recycling every time. Of course, recycling is better than landfill, but recycling isn't always the best solution.
Changing our behaviour as individuals might seem a little insignificant, but over time it all adds up and encourages good behaviour in others too. The simple reality is we can't keep on developing the disposable culture that we find ourselves living in today, so as that supermarket tells us, every little helps!