They're not the most beautiful things in the world by a country mile, but wheelie bins are something we all get disproportionately obsessed by from time to time. Whether someone drops a bag of dog poop in your bin, a neighbour puts their extra bag into yours without asking, or you see neighbours leaving excess bags on the pavement on bin day, there are few people that never feel a little irrational dustbin related rage building up inside.
Stickers are a great way to tell your own wheelie bin from everyone else's on the street. It's a simple identification method to get your own bin every time, not the dirtiest one that gets left out. As a rule of thumb, councils allow stickers used appropriately for wheelie bin identification.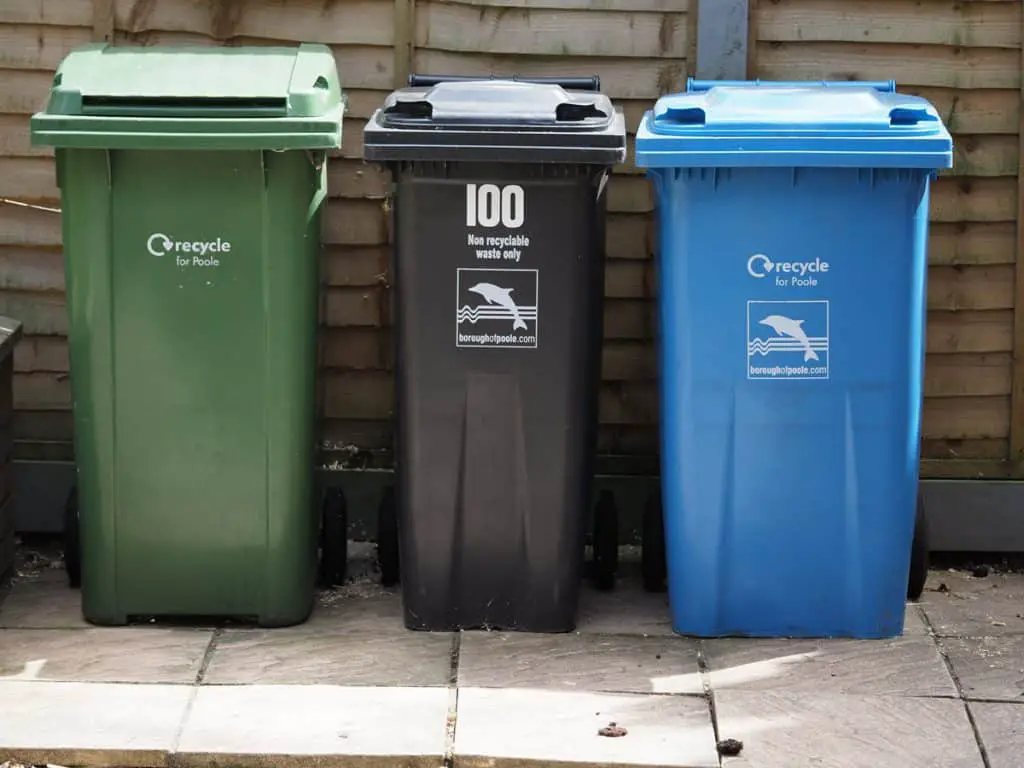 Who Owns Wheelie Bins?
Council supplied wheelie bins almost always remain the property of the council, even if you had to pay for it to be delivered in the first place. The same applies if you had to pay for a replacement, regardless of whether you old bin was lost, stolen or vandalised.
If you have chosen to buy your own wheelie bin, which some councils allow, you will need to have made sure that it meets the specifications for collection. The requirements laid out make sure that it fits onto the bin lorry for collection and can be emptied safely by crews. In this instance only, you retain ownership of your bin (or bins).
Can I Decorate My Wheelie Bin?
While rules do vary around the UK, strictly speaking the councils own the bins they supply and the only concession they give (in the majority of areas) is that you can use wheelie bin stickers to stick your house number your bin.
They do not allow other stickers, although I've never heard of anyone getting into trouble for doing so. Of course, if you were to create a message that people were offended by, a knock on the door becomes far more likely.
On the other hand, through the pandemic lock-downs of 2020 and 2021, there were lots of heart warming stories of people adding thank you messages to the refuse collectors on their wheelie bins which council employees were touched by.
Inevitably, while rules are rules, enforcement is only likely to be carried out on a case by case basis where necessary. My advice would be that if you decide to go ahead and decorate your bins, not to spend too much time and money on it in case you're asked to remove it again.
Recycling Bin Stickers
One big exception to stickers on bins outside of house numbers is where the service requires you show you've paid. This is often achieved through stickers showing the year that you've paid being stuck to the front of the bin.
The reason this is required is that it prevents people paying for the bin and a first year of service, knowing that their neighbours are paying too. In subsequent years, people have been known to put their bin outside of other properties, so the bin men don't know which bin belongs to the house that has paid. Having a physical sticker on bins reduces these problems.
Where To Buy Wheelie Bin Stickers
All sorts of shops sell stickers suitable for numbering your bin, including Argos and most larger supermarkets. You can also find a huge range online too, including a massive selection on Amazon.
Here's some on Amazon if you're wanting a quick link:
Personalised Wheelie Bin Stickers
As an Amazon Associate I earn from qualifying purchases.
| Image | Description |
| --- | --- |
| | Pack of 4 Personalised wheelie bin stickers with Number and Road Name for Bin and Recycle waste containers, White Self-adhesive Vinyl |
| | Personalised Printed Wheelie Bin Number Stickers with number and road Name – A6 Vinyl Waste Container Decals – set of 4 |
| | Personalised Printed Wheelie Bin Number Stickers with Road and Street Name – A6 Vinyl Waste Container Decals – Black on White – 4 Pack |
| | The Lazy Cow Personalised Printed Wheelie Bin Number Stickers with number and road Name – A4 Vinyl Waste Container Decals – set of 4 1 (A4) CUSTOM BIN LABELS |
| | Personalised Bin Numbers for Wheelie Bins Set of 4 Bin Stickers Wheelie Bin Numbers Stickers Custom Sticky Bin Number with House Number Street Name Custom Wheelie Bin Stickers Number(Design 3) |
How To Remove Stickers
One of the qualities of a good set of stickers for wheelie bins is that they stick really well. Unfortunately, that's not such a great quality if you want to remove them again.
Perhaps they are looking a bit tired and you want to use a new set, or maybe one of the numbers has peeled away while the others are still stuck fast.
Regardless of the reason, getting the old stickers off can be easier said than done!
I can tell you from experience that the worst thing you can do for your bin and numbering is to just stick them over the top. Last time I tried that, the new set lasted less than half as long as they should have done. It's worth spending the time to peel the old stickers away – or you'll end up with twice the job next time.
Sticker removal is a job that needs a bit of trial and error. Sorry that it's not a scientific answer, but the fact of the matter is you've probably got no idea what the stickers are made from, and no idea what sort of adhesive was used.
For that reason, it's best to start with the least abrasive method of removal, and work towards the bigger hitters until you get some success.
Regardless of which method you get to, make sure the bin is lying down, with the surface the sticker is on facing up to the sky.
Method One: Peel The Sticker Off
If you're reading this far, you've hopefully tried the simple and obvious solution already, but for completeness let's start at the beginning. Use your nails to lift the edge, and gently lift the sticker from the bin surface.
If for some reason you've not already tried to get the sticker off and this is successful, great. More likely though, you ended up where I've been several times and managed to peel a tiny bit back before it ripped away, leaving the majority of the sticker on the bin.
It's worth having a few goes, but if you're getting nowhere, move on to Method Two.
Method Two: Soap And Water
This is the trusty old soapy dishwater trick. Again, a fairly obvious method, but use a dishcloth or two laid over the stickers for ten to fifteen minutes to soften things up. It works particularly well for paper type stickers, but we've seen success even with the vinyl stickers with a plastic texture.
If things have improved a little but you're still struggling after an initial soak, try repeating the process a second time. If it's still made no difference at all, move on.
Method Three: Try Applying Vinegar
We're into responsible adult territory now, so if you're not an adult or clinically idiotic, stop now.
Vinegar is acidic, and may counteract the adhesive to help the sticker come away more easily. If you've not got vinegar to hand, you could try things like spray deodorant or nail polish remover instead. Again, a little 'soak in time' is necessary to get the full effect, so don't rush things.
Any Other Methods?
There is a final method which boils down to scratching the remnants of stickers away. Generally these are not recommended unless absolutely necessary as you might damage the bin.
Also be very careful if you're using anything sharp – it's better to accept the sticker has stayed stuck and leave it alone that to end up injuring yourself, so think carefully before taking any drastic action.
Just remember, it's often a lot easier to stick them on than get them off, so if you're not sure you like a particular set – make sure you don't rush into your choice. For me, I just tend to want a number so I know my bin is in fact my bin, I'm not fussed about what they look like. Simple is perfect!